Easier Access To Home Repairs with Real Estate Maintenance Tools
August 19th 2020, 4:08 pm Author: P.Chau
Housing equipment can't always stay the same without breaking down. Therefore, we usually look for repairmen from different channels: recommendations, websites, social media… However, most of them work individually and don't have a fixed working schedule and quotation for their services. This has led to an increase in demand on a real estate maintenance software application playing the role of a central platform to manage and provide all information related to repairment services.
When traditional ways can't help out...
Have you ever been in a situation when your water faucet starts to leak and you don't know how to fix them? What would you normally do then? Find a plumber nearby to get the work done as soon as possible? That sounds like how people usually deal with that.
The question is: How do you get their contacts? Unfortunately, most handymen can only be reached through recommendations or very limited channels. Moreover, many people would like to have an overview of the services they are getting, including detailed descriptions and estimated costs.
... a real estate maintenance software application is the answer
Therefore, some agencies supporting repairs services have set up networking websites/apps to provide a comprehensive solution. Basically, it works like an e-commerce website, with the main services are cleaning and repairs services. From leaky faucets, broken TVs to electric problems, you can find a suitable repairman based on your requirements.
To send a request, you are asked to submit your personal information and several details on your housing equipment or furniture. Hence, the service quotes will be sent thanks to an intelligent estimation tool integrated into email marketing.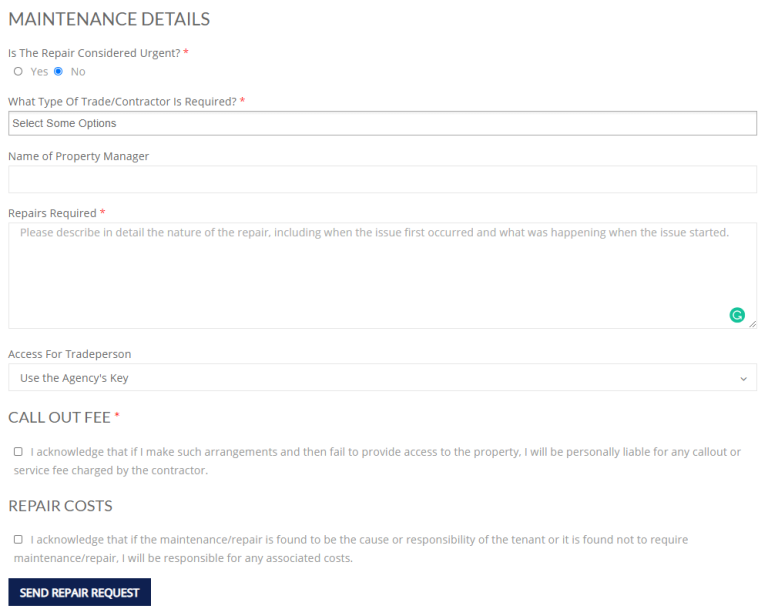 Real estate maintenance software creates a win-win situation
Technically, the real estate maintenance website/app does the job of a communication channel between service users, agencies, and repairmen. Consequently, all three parties share different benefits.
Residents can contact local handymen for help immediately, saving time and cost for them as they are able to check on the price before actually calling out for service. They can also reach for different repairs, such as house cleaning, yard maintenance, replacing fixtures, deck repair, staining, and sealing…
Nevertheless, agencies and their employees/collaborators are offered more opportunities, as well as enhancing their professionalism and workflow. Moreover, these platforms allow organizations or individuals to strengthen their reliability through integrated marketing automation.
Getting a real estate maintenance software application depends on how you clarify your requirements as well as choosing your outsourcing companies or teams. Executing many different projects, IDS Software has solid experience in real estate management software outsourcing. We are able to deliver the best applications based on your requirements to enhance your business. Composed of different teams using various languages like Python, Java..., we have brought out high-quality outsourcing services for our clients. Additionally, following the agile methodology allows us and our customers to track our process regularly, reducing risks while handling tasks.
Feel free to contact us for consultancy or any further discussion on your project.