8 Things You Should Know To Choose The Right Mobile App Outsourcing Company
May 28th 2020, 12:02 pm Author: P.Chau
Among various kinds of software outsourcing services, mobile app outsourcing is on high demand due to the increase in mobile app downloads. However, it's take careful consideration to choose the right providers for your project.
Mobile App Outsourcing is on high demand
Mobile applications are playing an irreplaceable role in our daily life. According to App Annie, there will be around 216 billion app downloads by the end of 2020. That also means, approximately 592 million apps are downloaded each day.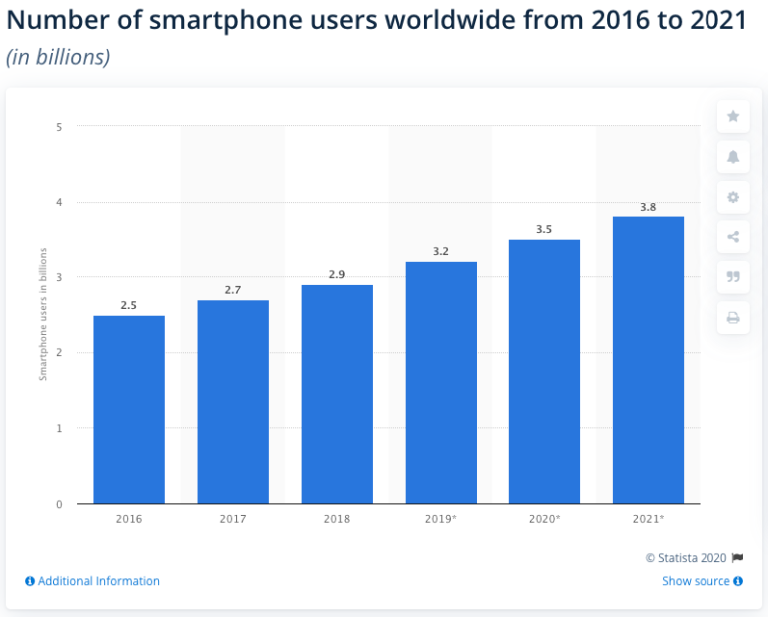 Besides the default applications, tech companies provide additional ones with more specialized functions, supporting e-commerce and online payment or assisting in content creation and publishing (similar to CMSs). Therefore, the demand on mobile app outsourcing is increasing since not every company has an in-house team to execute.
A wise choice in Mobile App Outsourcing providers decides your success
However, choosing an outsourcing provider is not like choosing an app or a product. You have to select the right one that is able to deliver the complete tool. Moreover, many businesses choose to outsource to suppliers in another country to reduce costs, putting the whole recruitment process made online. Therefore, clients have to spend time researching more carefully.
Here are some important notes in your mobile app outsourcing:
Know what you need
First things first, you have to know exactly what you want. What kind of application, the main functions, the target users, your budget, expected project completion time… are all sort of things you need to clarify. If you're totally a layperson, try searching for similar applications for reference. Once you have your to-do list, it'll be much easier to get your work done.
Define what you have
Nobody knows you better than yourself. Identify your current situation, whether you already have an existing application or not, whether you have proceeded with the work before or not, which stage you are currently on. Different situations lead to different solutions, so you have to define what you're holding and more importantly, what you're holding onto.
Set your standards
Once you already have the primary idea of your application, write down the criteria for your outsourcing team. Depending on your project, the dedicated team scale can be around 5-8 members. You should point out your requirements on skills and experiences for these positions to customize your mobile app outsourcing team.
When it comes to skills, you should clarify which language to use for your app: Java, Python, CSS... or whether they should use native apps or not.
Search for the better
Even when you have recommendations from acquaintances, don't forget to research for better suggestions. The first thing to research is… where to research. It might sound insane, but you have to look for some efficient websites or groups where you can find options of outsourcing teams online.
Check out the portfolio carefully
A portfolio is the priority clue for recruiters to evaluate candidates. Therefore, you should focus on the projects they have done, especially mobile app outsourcing. They say "You get what you pay for". Therefore, don't consider price as your top criteria. Some individual freelancers cost lower than dedicated teams, but their quality is not guaranteed. Dedicated teams already having their brand names are more recommended.
Check out their social media platforms carefully
Social media plays an important role as the face of a company/business nowadays. People usually demonstrate not only their work on social media but also their characters, their points of view, their casual office life, from which you can tell how they corporate together.
If you want to know, ASK
However, a portfolio can't show everything. If you want to find out more about the teams or their experiences on previous projects, don't hesitate to ask them. You should ask about their working process, how they dealt with bugs on previous projects or how they handle unexpected obstacles. You can partly tell whether they are capable of delivering what you need from how they managed to work things out before.
Communication is no less important
People usually say that people working in technical fields are not good communicators. However, communication is the most essential factor in any work. Therefore, you should choose people with good communication skills to discuss your project further.
There are two biggest obstacles when outsourcing to overseas are language and time difference. Your outsourcing teams at least have to be able to communicate in English and are willing to adapt to your work time. Usually, teams having experience cooperating with foreign partners before are used to overcoming the time gap and language barrier.
IDS Software has solid experience in mobile app outsourcing through different projects. We are able to deliver the best applications based on your requirements to enhance your business. Composed by different teams using various languages like Python, Java..., we have brought out high-quality outsourcing services for our clients. Additionally, following the agile methodology allows us and our customers to track our process regularly, reducing risks while handling tasks. Feel free to contact us for consultancy or any further discussion on your project.